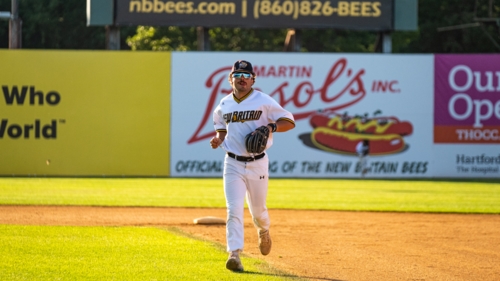 Bees Takedown Rox For Second Straight Day
Written by: Drew Mals
(NEW BRITAIN, CT) – The New Britain Bees defeat the Brockton Rox 6-2 Sunday afternoon at New Britain Stadium for back-to-back wins over the Rox.
Brockton was able to jump out to an early 1-0 lead after the first half inning, but New Britain wasted no time as they picked up where they had left off after scoring twelve unanswered runs the night before.
Things got started when Teddy Schoenfeld (MIT/Boulder, CO) ripped a two run single through the fist and second base hole that scored Jake Blinstrub (Georgia Southwestern/Peach Tree, GA) and Joel Lara (Franklin Pierce/South Boston, MA), giving the Bees a 2-1 lead.
Two batters later, C.J. Brito-Trinidad (Bowdoin/South Kent, CT) ripped an opposite field base hit that scored Schoenfeld giving New Britain a 3-1 lead after one inning.
Starting pitcher Chris Gibbs (Mitchell College/New Britain, CT) surrendered just one more run to Borckton in the top of the second which would be their last run of the game.
Brito-Trinidad drove in his second run of the day on a fielder's choice that scored Mark Coley (Rhode Island/Bloomfield, CT) extending the New Britain lead to 4-2.
New Britain's Matt DeRosa who went 2-for-4 on the day ripped a double over the right fielder's head in the fourth that scored Gavin Greger (UConn/Bristol, CT) as the Bees lead increased to 5-2.
The Bees weren't done when they added one last insurance run when Lara lined a bloop single into left field that scored DeRosa giving the Bees a four run lead, 6-2.
Sebastian Holt (Maine/Woodbridge, CT) was dominant out of the bullpen when he went four and two-thirds of an inning, two hits, zero runs while striking out five Brockton batters earning himself his second win on the season.
New Britain is back in action August 2nd taking on the Worcester Bravehearts at 6:30 P.M. at Fitton Field. The Bees will be back home for Wednesday, August 3rd to take on the Pittsfield Suns at 6:35 P.M. Enjoy our Why Not Wednesday promotion with $2 Coors Light and Miller Lite's.

WP - Holt LP - Shurtleff