Front Office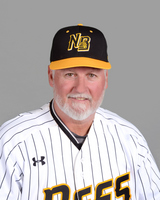 Stan Cliburn
Manager
E-mail:
Stan Cliburn was named the first manager in team history on December 15, 2015.
Following a 15-year professional playing career as a catcher where he reached the major leagues, Cliburn began his ascension through the minor league coaching ranks, taking his first job as a manager with the New York Penn League (A, Pirates) in 1988. That season was the first of what has become a 29-year coaching career, with 26 of the 29 years spent as a manager.
Included in his 26-year managerial career are 5 very successful years with the New Britain Rock Cats (AA, Twins), which were highlighted by the team's 2001 Eastern League championship. Cliburn has amassed more than 1,600 career wins as a manager in professional baseball and has managed at the Single-A, Double-A, Triple-A and Atlantic League levels, achieving his 1,600th win on August 18th, 2016 vs. the Long Island Ducks. Between the Rock Cats and the Bees, Cliburn has won over 500 games in the Hardware City.
New Britain Bees Ownership
New Britain Bees Staff
Advanced Physical Therapy Training Staff
Bristol Hospital Medical Staff