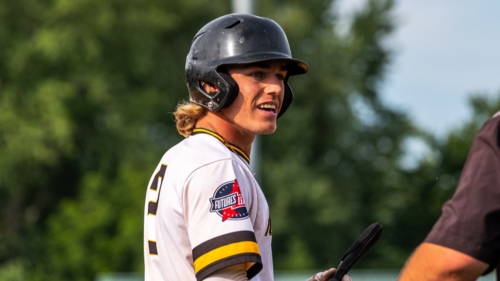 Bees Win on Walk-off Home Run
Written by: Drew Mals (@MalsDrew)
(NEW BRITAIN, CT) – New Britain defeats Pittsfield 6-5 courtesy of a Tyler Pettorini (Ohio State) walk-off home run at New Britain Stadium Wednesday night.
Pittsfield got out to an early 1-0 lead when Rob Taylor (New Haven) hit a sac-fly to right field that scored Bo Bramer (Fordham).
New Britain was able to tie the game up at 1-1 in the second when Elliot Good (Central Connecticut St.) hit into a fielder's choice that scored Tyler Pettorini (Ohio State).
The Bees took a 2-1 lead in the third on a base hit into left field from Jason Claiborn (Eastern Connecticut St.) that drove in Jeff Nicol (Central Connecticut St.).
Pettorini (Ohio State) drove in his twenty-first run when he knocked in Claiborn (Eastern) in the sixth to make it 3-1, New Britain.
The Bees had control most of the game until the eighth when Pittsfield was able to put up three runs when Pittsfield's Matt Ryan (UMBC) hit a single into right field that scored Brennan Hyde (Nichols), Anton Lazits and Taylor (New Haven) giving the Suns a 4-3 lead. Taylor scored on an overthrow from Mark Coley (Rhode Island).
Coley (Rhode Island) redeemed himself when he hit a game-tying home run that even the game up at 4-4.
The Bees took the lead when Good drove in Colton Shaw (Yale) on a sacrifice fly to right field giving the Bees a 5-4 lead heading into the ninth.
This game kept going back and forth in the late innings as Mike Marella (Fairfield) surrendered the game tying run to Pittsfield as Bramer knocked in Jack Ryan (UMBC).
The Bees were held scoreless in the ninth sending this game too extras. Marella was able to make quick work of the Suns, sitting them down one-two-three.
It only took New Britain one batter in the tenth to finish this game off as Pettorini absolutely crushed a walk-off homer into the night as Bees came out on top after some late inning fireworks.
The Bees are back in action tomorrow at home taking on the Norwich Sea Unicorns for the last matchup between the two Connecticut teams. It's Thirsty Thursday presented by Pabst Blue Ribbon at New Britain Stadium. Enjoy a $2 Pabst Blue Ribbon while cheering on the Bees.
WP - Marella LP - Lazitz